Why INSEE Vietnam?
INSEE Vietnam is a member of the Siam City Cement Public Company Limited (SCCC), one of the market leaders in building materials industry in the region. The company has more than 1,000 employees working at five different cement production sites and the head quarter in Ho Chi Minh City.
Since establishment in 1994, INSEE Vietnam has become one of the leading cement, DRYMIX, fiber-cement CONWOOD and waste management in the south of Vietnam. We are proud that our high quality and sustainable products have been used in so many iconic buildings and infrastructure projects, as well as numerous housing and commercial developments across the south Vietnam. By this way, we contribute our small part to the sustainable development of the economy, the environment and society. INSEE believes that the world would be a better place if everything we build could always make life worth living - the heart of our brand philosophy "Build For Life".
DEVELOPMENT TIMELINE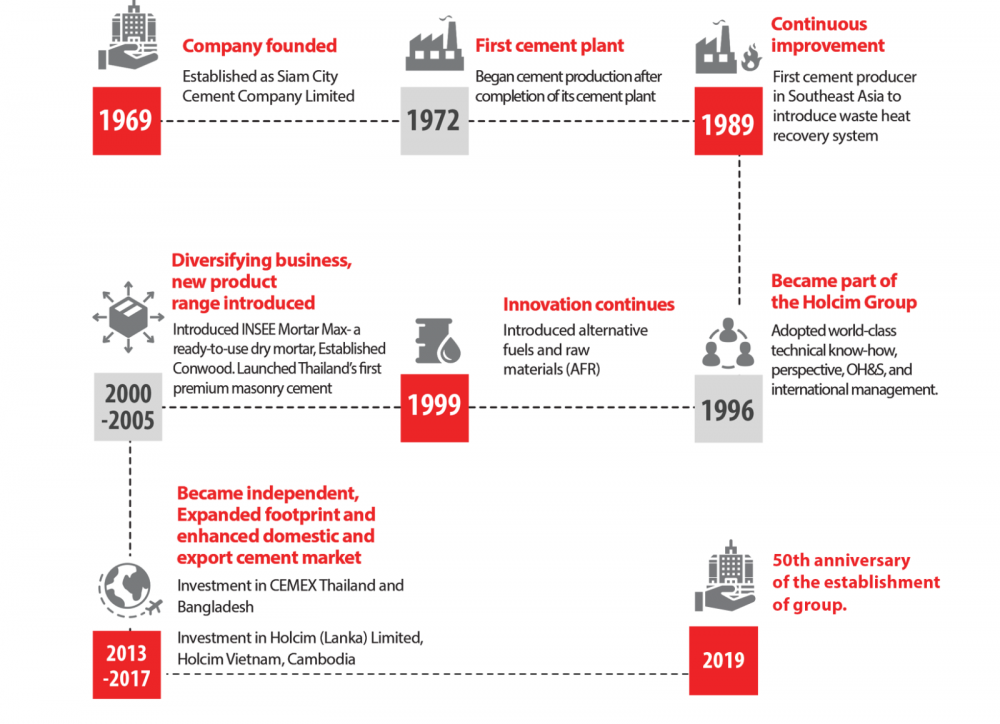 ABOUT SIAM CITY CEMENT PUBLIC COMPANY LIMITED
 Siam City Cement Public Company Limited (SCCC) was established in 1969 and began cement production with completion of its first cement plant in 1972. In 1977 it was listed on the Thailand Stock Exchange. As one of the country's largest cement producers, SCCC has provided world-class construction materials and services that have been vital to economic growth in Thailand for almost 50 years. SCCC has embarked on a strategy to extend its footprint across the broader southeast Asian region, with operations in Indonesia, Cambodia, Bangladesh, Sri Lanka and Vietnam.
BRAND PHILOSOPHY - BUILD FOR LIFE
As a long-term investor in Vietnam with more than 25 years of presence, INSEE is constantly striving to become a leading supplier of sustainable construction materials and waste management in Vietnam. Sustainable development and innovation are at the core value of our improvement in quality of life. The expectations of customers and other stakeholders are central to this ambition as we strive to deliver the highest standards. Upholding sustainable development not only contributes greatly to addressing the challenges that we face today, but also opens up business opportunities, improves competitiveness, and reputation and strengthen our internal strength. By contributing to society through our core business, with the highest standards of transparency and sustainability, we hold our position as a leading business partner, supplier and supplier Attractive working environment for employees. That's how we build for a better life by contributing to Prosperity, People and the whole Planet based on effective operation. For more than a decade, we have always been a pioneer in adopting sustainable solutions in Vietnam.
INSEE believes that the world would be a better place if everything we build could always make life worth living.
INSEE - Build for Life.
BUSINESS SEGMENTS
HOUSING SOLUTIONS
For millions of long lasting, durable houses.
A solid house with time is always the dream of every Vietnamese family. As an expert in the field of research and improvement of civil construction materials, INSEE Vietnam offers a comprehensive solution for millions of houses, resilient to all climate challenges in Vietnam.
DRYMIX & CONWOOD
For a durable and beautiful urban appearance.
Urban appearance is more complete thanks to a delicate combination between material properties and natural beauty. An innovative combination of natural beauty and outstanding durability, INSEE provides a complete decoration solution of construction mortar and CONWOOD wood-imitation cement to help inspire architects and contractors. building, making life more and more prosperous.
INDUSTRIAL SOLUTIONS
For sustainable connection infrastructure.
Every construction project requires specific materials to ensure safety and durability. As a leading election for key infrastructure projects, INSEE offers a wide range of unique construction solutions; It not only optimizes sustainability in all weather conditions or erosion, but also contributes to connect and bringing prosperity to regions throughout Vietnam.
INSEE ECOCYCLE
Because tomorrow matters
As a partner of more than 250 large corporations in different industries in Vietnam, INSEE Ecocycle is proud to bring Co-processing technology in cement kilns to process safely and thoroughly more than 1,200,000 tons of waste, reduce more than 1,200,000 tons of greenhouse waste during more than 10 years of operation.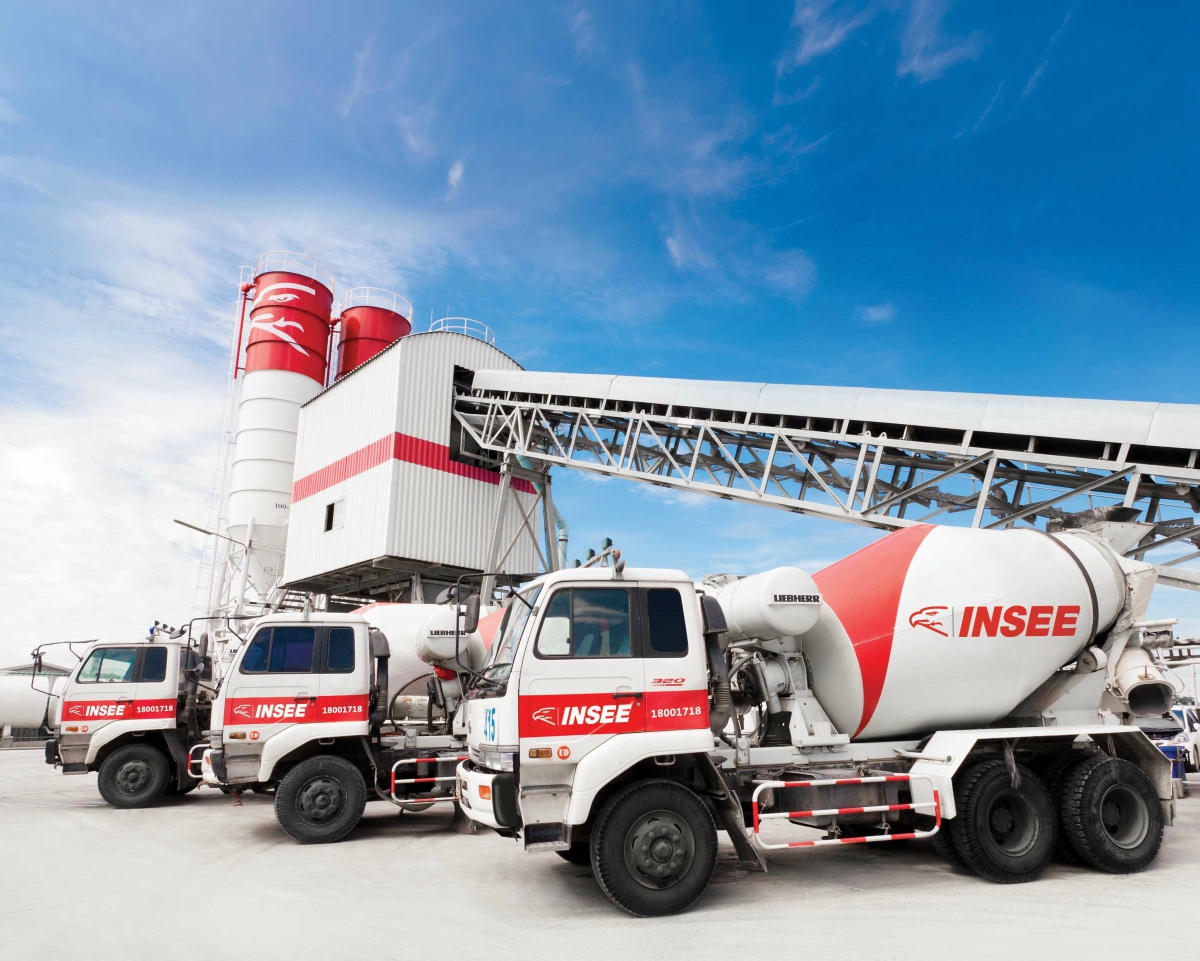 We offer an attractive working environment with national and international career development opportunities based on performance and skills. We treat each other with mutual respect and trust, sharing information and knowledge through all levels. This must be seen as an exciting entry opportunity for an international career.  

People we look for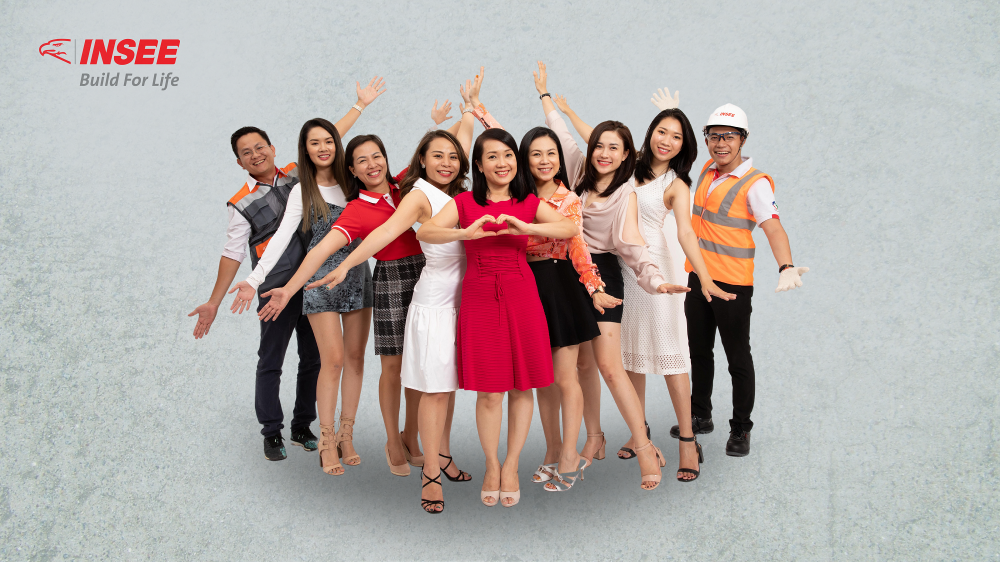 INSEE Vietnam values a motivated and engaged workforce, working in an open and safe environment driven with passion and energy to achieve the organization's goals.
We are looking for bright, capable people who respond to opportunities and execute roles efficiently. People who are dedicated to develop and contribute to a respected organization.  Specifically, we are looking for people who:
Lead for Performance:  strong commitment and sense of urgency to achieve goals,  looks for opportunities and solutions, tackles tough challenges or problems quickly and directly.

Are Proactive: challenge the normal way of doing things, have "I want to improve" mentality, asks questions to clarify.

Have "Can do" atttitude, Energy and Excitement: sets high standards, not wait to be told to do something, is motivated and enthusiastic to do the tasks, doesn't let obstacles or barriers stop them.

Have Capacity to Learn: adapt to fast learning environment, learn from experience, resilient in setbacks or mistakes.
Inside review about INSEE Vietnam